中国供应商e人力车备件正面吸震与弹簧无弹簧任何长度


技术数据
材质:铁,铝

长度:28"29"30"31"32"33"

直径:31mm,33mm,32mm,33mm,43mm

颜色:黑色,红色,黄色,定制

起订量:100对
中国供应商e人力车备件正面吸震与弹簧无弹簧任何长度

液压制动器带弹簧或无弹簧31尺寸37尺寸43尺寸任意长度(3)

液压制动器带弹簧或无弹簧31尺寸37尺寸43尺寸任意长度(3)
技术数据
材质:铁,铝

长度:28"29"30"31"32"33"

直径:31mm,33mm,32mm,33mm,43mm

颜色:黑色,红色,黄色,定制

起订量:100对
中国供应商e人力车备件正面吸震与弹簧无弹簧任何长度
常问问题
1为什么我们值得信赖?你为什么要相信我们?
电机是DT品牌防水无刷电机,比其他品牌的电机更安静。控制器是BD品牌,它们来自同一制造商,所以他们可以充分利用性能。
电池是CX品牌电池电池12v 120ah,顶级品质战斗我们有保修18个月(使用寿命:500-600次) 
全铝减震器更适合司机使用。
Body an bassis material  from shougang from shougang group ,tube wall thicness is 2.00mm, high accuracy WEDM technology no offset ,which can ensure strong body and solid hassis .
Product warranty battery and motor 18 months;body and chassis 3year
2` What's payment terms ?
40%advace payments ,60%balance paid before loading  container.
3` What's MOQ?
17 PCS PACKING: CKD Quantity .17 pcs/20'GP, 40 ps /40'HQ
4` How check the quality of tuk tuk for sale ?
square tubes steel noy triangle for the carriage beams.
chassis steel thickness  average over 2.00mm
moto and controller rand :DT
rear axle brand :DT
type brand :DONG YUE
5` Delivery time ?
15-20 days after received buyer' advance payment.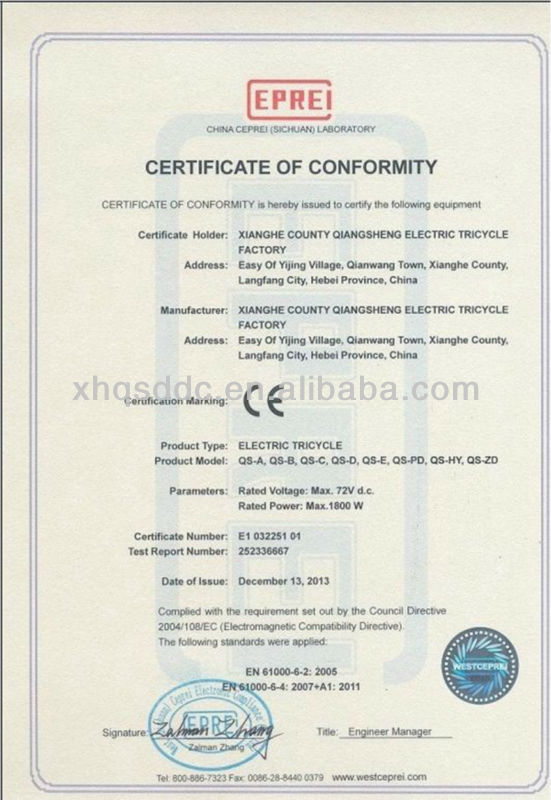 China supplier e rickshaw spare parts Front shock absorption with spring without spring any length
  欢迎来厂参观洽谈
来吧 !不要犹豫,把你的要求发送给我们。你的时间是OED是接受的,我们对三轮车的乘客有足够的自信 
推销员:sylia li